There have been a flurry of timely and important conversations at Friday Forums in January. I can't hope to capture everything that was said, but I'll recap a few notable moments from each.
Power and Silence: How #MeToo Is Changing the American Workplace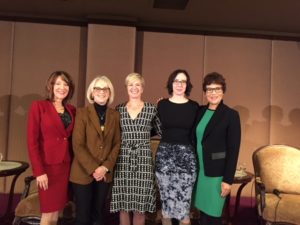 Americans are finally confronting the widespread problem of sexual harassment and assault. There are many facets to the issue, but this conversation focused on the workplace policies and laws that protect workers and managers.
On January 12, Laural Porter from KGW spoke with Mariann Hyland, an Assistant Vice Provost in the Office of the Provost and Academic Affairs at the University of Oregon; attorney Dana Sullivan; and Lisa LeSage, the Executive Director of Immigration Counseling Service. They spoke about legal definitions, the history of sexual harassment awareness in the U.S., and what we can do to prevent harassment in the future.
Hyland framed the issue as a continuation of the civil rights movement. LeSage added, "This kind of harassment has been happening for decades—what's new is that women now have some avenues to be heard."
Sullivan provided some legal context for what's happening right now. She said that the bar for proving harassment is remarkably high. Courts define harassment as "severe and pervasive." In other words, if comments or actions are subtle, it will be hard to prove in court that they constitute harassment.
The panel recounted the Anita Hill hearings, pointing out that in the context of #MeToo, those hearings take on new meaning. They also discussed the prevalence of harassment complaints in state legislatures—about half of states are currently dealing with sexual harassment claims.
What can be done? The panel agreed that having processes that protect confidentiality and investigate cases rigorously is an important step. Hyland added that men can be allies by bringing more "conscious awareness" to what they say and do.
The talk covered many more important ideas. You can listen to the broadcast at xray.fm or watch on YouTube.
2018 Legislative Preview: What Can Lawmakers Accomplish This Year?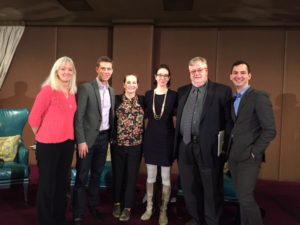 It's a short legislative session in Salem this year, but Oregon lawmakers have big issues to address. On January 19, we previewed what to expect next month with John Horvick, Vice President and Political Director, DHM Research; freelance journalist Dick Hughes; and Hillary Borrud from the Oregonian.
The big question on everyone's mind was what would happen if Measure 101 failed. We'll never know now, but there was talk of other sources of finding and possible backup plans.
Overall, the legislative session looks murky. Hughes noted that Governor Brown isn't saying much about the cap and invest bill. There's talk of gun control legislation, but urgent topics—housing, traffic congestion, PERS, and other financial issues likely will not be addressed.
"[Governor Brown" is going to get a lot of criticism for having such a modest agenda," Hughes said. "But this is a short session, so it makes sense to have a modest agenda."
Want to hear more about the 2018 legislative session? Listen at xray.fm or watch the entire Friday Forum on YouTube.
Oregon's Electorate: Who Will Vote—and Why It Matters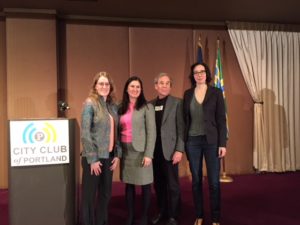 We've seen a lot of interesting votes over the past couple of months and a lot of people are asking whether 2018 will bring an anti-Trump wave to government. Dr. Melody Rose, President of Marylhurst University, shared her insights on the electorate nationally and in Oregon.
Dr. Rose kicked off with a history lesson. She said that while we think we live in exceptional times, major political realignments happen every few decades, in part because it's hard for two parties to meet the diversity of views Americans hold.
Dr. Rose believes we're about to see another realignment, one that will bring in a blue wave and what she called a "pink wave" across the country. In fact, thousands of women are expected to run for office for the first time in 2018, a far larger cohort than in previous waves.
Enthusiasm seems to be on the side of Democrats, but "enthusiasm is a fickle thing," Dr. Rose said. She noted that there was a lot of white, working class enthusiasm in 2016, which significantly benefited Trump.
Ultimately, Dr. Rose believes that Democrats will only be able to sustain their enthusiasm if they're able to convince poor, rural voters to join their coalition—much like how Republicans began their rise in the 1980s.
Dr. Rose covered so much more history and election analysis. I encourage you to listen to the full talk on xray.fm or watch it on YouTube.