Goal: To help Civic Scholar students feel comfortable and supported at Friday Forums, to prepare the Scholars for the Forum by researching and discussing the topic beforehand, and to connect the Scholars with local leaders in their communities.
Selection Process: Application to be submitted and evaluated by City Club Staff. Applicants are subject to background check.
Time Commitment: 4-5 hours per month
Position Requirements:
Willingness to support and connect with diverse high school students
Represent City Club as needed and requested
Knowledge of local issues, nonprofits, volunteer opportunities, and local leaders
Passion for youth civic involvement
Able to pass background check
Duties and Responsibilities:
Attend one Youth Adult Partnership Training (End of October, TBD)
Attend 3 or more Friday Forums with your assigned school over course of academic year
Attempt to meet with the Scholars for discussion sessions about Forum material
Facilitate private Q+A with guest speaker at Forum
Help the Scholars network with important leaders in their communities
Help the Scholars coordinate service learning opportunities
Help plan and attend End-of-Year Celebration (Date TBD)
Coordinate and communicate with the Civic Scholars Coordinator,  school representatives, and co-Ambassadors
The Civic Scholars are from six different high schools: Parkrose, Madison, Jefferson, David Douglas, Early College Academy at NAYA, and Roosevelt.  There are 10-20 Scholars from each school and 2-3 Civic Ambassadors assigned to each group of students.  The schools alternate weeks so each Friday Forum will only have the Scholars from one school in attendance.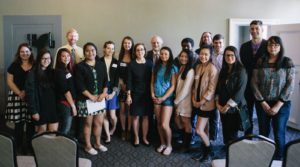 Getting a group of youth attending the Friday Forum is a great idea and will have real benefit for them and the club - start soon. The schools are interested in creating citizens and can and should help motivate, identify, and generally facilitate young citizens engaging in the City Club…let me know how I can help the Club with this work
David Lickey
Grant High School Teacher