You've probably heard that City Club of Portland is 101 years old and was part of a wave of civic activism in the early 20th century. What you might not know is that these city clubs fall into a larger, uniquely American tradition of civic community building.
The Junto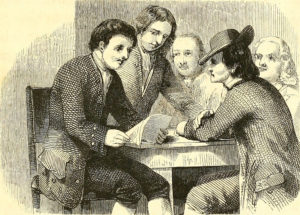 In 1727, Benjamin Franklin, an enthusiastic and outgoing 21 year old, began organizing what he called a "Junto"—a group of businessmen and intellectuals who met on Friday evenings to discuss morality, politics, science, philosophy, and many other subjects.
These meetings were intended for "mutual improvement" that was both personal and social. Franklin thought that if he could bring together the best minds in Philadelphia, they could get at real and important truths.
He said in his autobiography, "Our debates were to be under the direction of a president, and to be conducted in the sincere spirit of inquiry after truth, without fondness for dispute or desire of victory; and to prevent warmth, all expressions of positiveness in opinions, or direct contradiction, were after some time made contraband, and prohibited under small pecuniary penalties."
Democracy in America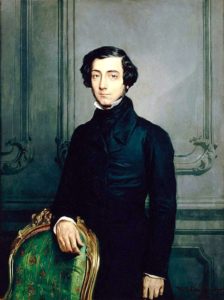 This earnest belief in the power of association is what Alexis de Tocqueville observed a century later. You might remember Tocqueville from American history classes in high school or college. He traveled America in the 1830s, ostensibly to study prisons, but he had larger ambitions for his trip. His book, De la démocratie en Amerique, published in 1835, was his attempt at convincing France to adopt American ideas of freedom and government.
Tocqueville seemed particularly impressed with how Americans took it upon themselves to organize and take action. "Americans of all ages, all stations in life, and all types of disposition are forever forming associations," he said. "There are not only commercial and industrial associations in which all take part, but others of a thousand different types—religious, moral, serious, futile, very general, very limited, immensely large and very minute."
This sounds a lot like City Club, doesn't it?
The Rise of City Clubs
Until recently, we might have looked at democracy as inevitable and lasting—our civics lessons often come with a heavy dose of patriotism. However, in the late 1800s, democracy was only about 100 years old and many people were beginning to worry that corruption was threatening its durability. For example, Tammany Hall had ruled New York City for decades and its political machine proved to be nimble and persistent. 
In 1892, a group of New Yorkers formed the City Club of New York, an organization that sought to "exert its influence steadily in behalf of an honest, efficient, and independent city government." The City Club of New York was a kind of amalgam of Franklin's personal and democratic interests—the Junto in a maturing democracy.
The idea of a civic organization for honest government spread across the country. City clubs formed in Boston, Milwaukee, Baltimore, Cleveland—most major cities had a city club-type organization by 1920, including Portland, Oregon.
New York's City Club was founded by prominent men who owned railroads, banks, and publishing houses. City Club of Portland has much humbler roots. The club's first members were clerks, foresters, doctors, salesmen, a few attorneys—a cross-section of the white, male Portland community.
D.A. Norton's reminiscence of those early days sounds a lot like Franklin's memory of his Junto. "No mossbacks or drones were wanted," he recalled. "Everyone was to work. It was never to deteriorate into a tool of special interests. Neither politics nor money were to control youth or ability. Character, intelligence, training, civic-mindedness, a desire to help the community, were wanted and fostered." 
Learn More
City Club has a rich history of insightful research and activism. Read our 1984 report on prostitution or the report that lead to the creation of Forest Park.