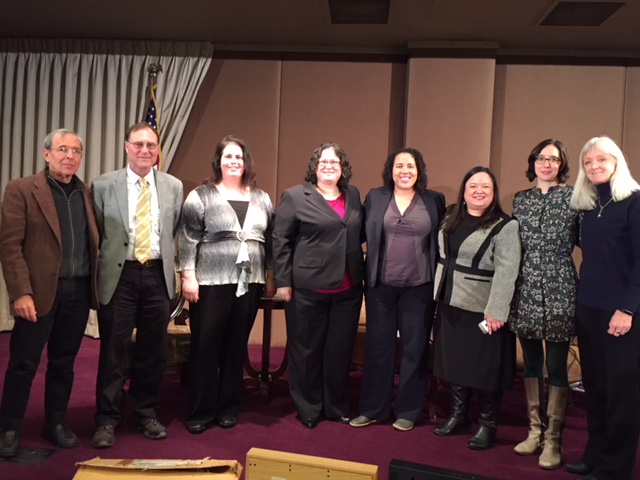 On Friday, January 5  City Club hosted a debate at the Sentinel Hotel on whether Oregon voters should approve assessments on hospitals and health insurers to help fund the Oregon Health Plan. The room was packed because for the "yes" side the stakes are high—a "no" vote will likely send the legislature scrambling to find money to fund health care for hundreds of thousands of children, seniors, and people with disabilities.
The "No" panel kicked off the discussion with Julie Parrish (R – HD 37, West Linn) saying that the new fees are "unfair, inequitable, and unsustainable."
The "Yes" panel, which included Jessica Adamson (Director of Government Relations, Oregon Providence Health & Services) and Felisa Hagins (Member, Oregon Health Policy Board and Political Director of SEIU Local 49), framed a "no" vote as "a gamble," Hagins adding, "if it fails, a million people's health care is at risk, 400,000 of which are children."
Is There Extra Money?
There was a lot of dispute over whether the legislature could fund the Oregon Health Plan without these new fees. "This isn't money that's just sitting around in a rainy day fund," Adamson said. However, Parrish insisted that there is $200 million dollars of "head room" that can go to health care.
Schools are among the state-funded programs that are concerned that the state will cut funding that is already far below the national average. "As a school board member, we'll worry all the time about additional cuts [if 101 fails]." Adamson said.
Special Interests
Parrish claimed that Measure 101 was written in a "back room" and that other plans for funding health care were not considered. Parrish repeatedly said that "special interest" groups, such as hospitals and other health care providers, were supporting this legislation because they would benefit from it financially. "I don't mind being criticized by special interests who benefit," she said.
That claim wasn't directly addressed, but Hagins said, referring to organizations that are trying to help poor families, "Yes, the health care providers and educators have a 'special interest' here. Our interest is, indeed, special." 
Checkbook Issue
Parrish said that, for her and her constituents, this is a "checkbook issue, not a party issue." She feels that these fees do nothing to lower the cost of health care for middle class families. In fact, she believes they will increase costs.
Adamson disputed that claim. She said, "Access to healthcare lowers costs and improves outcomes."
Listen Now
Want to hear the full debate? Listen at XRAY.fm or visit our YouTube channel.