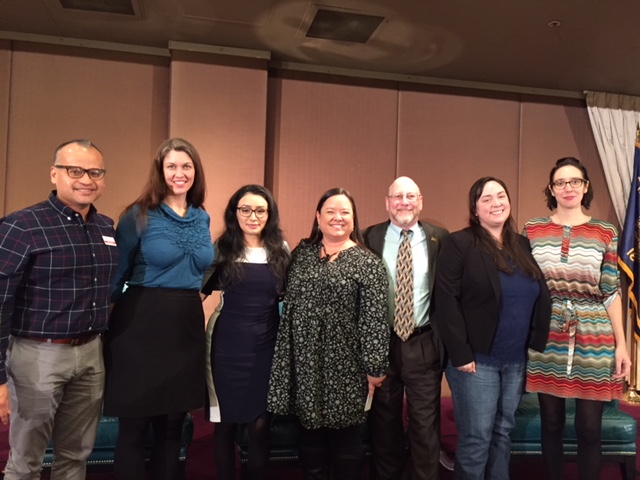 A lot of Americans don't vote. According to the Pew Research Center, 55.7% of voting-age Americans voted in 2016. The popular narrative is that some people are lazy or don't care, which is an incredible notion in the world's oldest democracy and one of the most patriotic nations in the world (American ranked #1 in a 2016 poll from YouGov). Do Belgians (87.2% of voting-age vote) or Fins (73.1%) love their countries more? Probably not. What makes us special was pointed out by Dr. Melody Rose during her January 26 Friday Forum.
"We have a registration problem in this country," she said. "It is highly unusual in a fully formed, advanced democracy that the responsibility for registration falls to the individual. That's almost uniquely American."
On Friday, February 2, we spoke people who are working to solve that registration problem and are trying to solve other issues around voting, including providing information about the voting system, working to ensure the information that's disseminated about each election is fair and accurate, and actively reaching out to and engaging populations that often feel left out of American politics. Our panelists included Jerry Cohen, Oregon director of AARP; Ana del Rocío, state director of Color PAC, and Jess Campbell from the Rural Organizing Project. Moderating the discussion was Caitlin Baggott Davis, a veteran of voter drives and one of the founders of the Bus Project.
The Prospects of Progress
Davis began with a quote from Dr. Melody Rose, where Dr. Rose asserted that progress toward equity has accelerated in recent years. "Is that true?" Davis asked the panelists.
Their answers were mixed. Jess Campbell answered by pointing out the lack of access to basic services in many parts of rural Oregon. Ana del Rocío added, "Here in Oregon, we still have not done the work to make representation a reality." Jerry Cohen talked about moving from "me to we" and has found that appealing to voters sense of legacy is an effective way to move them to consider the larger social context of their vote.
Strategies that Work
Del Rocío looked back at Obama's campaigns and compared them to Clinton's and noted an important difference—Clinton didn't open offices in "safe" cities such as Portland and Detroit. Obama did. "The investment and commitment to bringing voters of color along was clear," she said. Del Rocío's point is that you have to show up. You can't take people for granted or they won't be energized to invest in you. She added, "When you're trying to win over someone's belief in you as a candidate, you have to literally speak their language."
Campbell talked about Josephine County's lack of funding for public safety as creating a climate of crisis, but in this environment, she has been able to open up conversations about the social contract and build support for funding libraries and 911 dispatchers. "We needed to talk about material conditions really seriously and immediately with folks.... What folks were going for were the all too easy stereotypes."
Agree to Disagree 
Davis asked a question that seems to be on a lot of our minds right now: "Are we losing the ability to talk to people we disagree with?" Jess Campbell suggested first talking about the things that we all care about. "When we can tap into a lot of the stuff that's cultural for rural Oregonians—how's your mama, how's your family, how's your teacher, how are your kids, how are things going down at the coffee shop—we're actually able to uncover a wealth of issues."
What's clear is that digital spaces are not making it easier to connect with people. The oldest political tool we have—face-to-face conversation—is still the most effective at winning people over. 
Watch or Listen
Our panel discussed so much more including mobilizing young voters, Oregon as a testing ground for fringe organizations, and continuing to support candidates after the election. You can listen to the full program at XRAY.fm or watch it on YouTube.